The home visit service is a big part of DR Inclusive Fitness
being inclusive... in essence I bring the gym to you!
To remove barriers to accessing the fitness industry for disabled people and people with long term health conditions, I offer a home visit service within Edinburgh and the Lothians. Getting to the gym is in fact itself a barrier to the fitness industry for a lot of disabled people whether this is to do with physical or social barriers. This service helps to overcome that!
Home visits are a vital part towards DR Inclusive Fitness being inclusive. Simply put, I bring the gym to you! From hand cycles to strength equipment, I have a range of equipment to bring to your door so that we can achieve your goals together.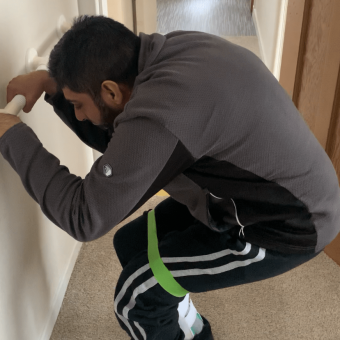 ​If you would like more information or to arrange a free consultation then please do not hesitate to get in touch and we can look at starting to remove some of the barriers that stand in your way.
This service also allows us to be flexible, swapping between gym sessions and home visits depending on your circumstances. I recognise that conditions and energy levels can fluctuate, and that PA/support packages can change. We'll work together to find a routine that works for you.
The home visit service is also available for massage and rehabilitation therapy including sport and remedial massage, cupping therapy, and injury rehabilitation. There are packages available that include both personal training and massage therapy.
For more information, or to set up a free
consultation, please get in touch